Full list of Kelly Khumalo's ex-boyfriends and why everyone who dates Kelly Khumalo dies
Full list of Kelly Khumalo's ex-boyfriends
Kelly Khumalo has had a difficult few years when it comes to finding love. Most of her relationships have endured tragic or controversial endings. Three of all her ex-boyfriends have been married men!
One of her first high profile relationships, with rapper Jub Jub, came to an end after he was jailed for driving under the influence. However, this was her second relationship, before Jub Jub, there was Prosper Mkwaiwa, who is now late.
Speaking on Touch HD , the mother of two revealed how she would be doing things differently before getting into a relationship with someone.
"I've always gone into relationships because someone has asked me out. It has never been about, do I want to be with this person? Do I want to date this person? Do I want a relationship with this person? Do I even like this person enough to be in a relationship with them?" she told the show's host Thami Dish.
"So it has always been about the other party as opposed to me," she explained.
The Asine hit-maker also made it clear that her interests and happiness would come first before anyone else's in the relationship.
However, the award-winning musician and actress Kelly Khumalo has been unlucky in the love department. All her past relationships have ended horribly, with some of her former boyfriends ending up jailed or dead.
Here are men that Kelly Khumalo once dated before and the reasons of their separation:
1. Prosper Mkwaiwa
Before Kelly and Prosper started seeing each other in 2007, they were working together; and Prosper was Kelly's music manager and business partner. Apparently this late businessman is the one who broke Kelly's virginity.
Apparently, Kelly miscarried her pregnancy after finding out that her lover cheated on her with a waitress. In 2013, Prosper died after a short illness. However, he and Kelly were already broken up by the time he died.
2. Jub jub
Jub jub and Kelly Khumalo's relationship was the longest one, she even became pregnant in 2009 with Jub jub's baby boy and gave birth in 2010.
Kelly Khumalo had been supportive towards Jub jub the time they were dating, she even accompanied Jub jub to court for his case of accidentally killing four school children. They broke up because Jub jub was allegedly abusing Kelly, and he denied everything he just said Kelly is just an attention seeker only. Later on, Jub jub got convicted.
3. Senzo Meyiwa
Kelly and Senzo started dating in 2013 and that was after some months of marriage with his wife. Apparently Kelly didn't have any idea that her lover was a married man. Senzo's wife found out too regarding her husband's affair with Kelly, and that led into a huge public fight between Kelly and her young sister Zandi against Senzo's wife.
One year later, Kelly got pregnant with Senzo's daughter and she gave birth in March 2014. On the 26th of October 2014, Meyiwa was shot and killed in Vosloorus the home of Kelly Khumalo after argument inside the house.
4. Zamokwakhe Bhaka Nzama
Kelly and Nzama started dating after three months of Senzo's death. Nevertheless, their relationship didn't last because Kelly Khumalo was his sidechick (Nzama was a married man). Apparently in February 2015, Kelly told Nzama to divorce his wife for her but he refused. After refusing to do what he was told to do, Kelly got angry and started beating him up.
This man did not open any charges for her, he just took a decision to broke up with her. Apparently, Kelly was still in love with Senzo by that time, the sangoma was just used as s rebound.
5. Chad Don
Chad and Kelly's love was at first sight. It happened during the shoot of music video in October 2018, and that led to engagement right after two months of their relationship. These two even tattooed ring images in their fingers as real engagement rings representing their love. These two broke up last year (2019)
In January 2015, a sangoma revealed that Kelly Khumalo's boyfriends will continue experiencing mysterious misfortunes until Kelly agrees to become a spirit medium as per her ancestral spirits demands.
Sangoma Dumezweni Mahabuke from Kwa-Thema in Ekurhuleni said Kelly Khumalo never did things the right way in the first place.
"She never gave herself time to mourn Senzo Meyiwa the right way, and she still has not had a proper cleansing ceremony. And she has already moved on to the next man," said Dumezweni.
The sangoma said his bones were showing him the new man in her life but a dark cloud is still with her. "The new man in Kelly's life is a brave man," he said.
In the same month of January 2015, Kelly was reported to be all loved-up with a new man – Zamokwakhe "Bhaka" Nzama, an 'inyanga'.
According to Sunday Sun, pictures of the rumoured couple made their social media rounds, with the pair being spotted at the Saxon Hotel in Sandton, a mere three months after her Bafana Bafana baby-daddy boyfriend Senzo Meyiwa was murdered at her home. According to the Independent newspapers, the wife of the Durban traditional healer was forced to watch helplessly as her husband rode off in his car with the controversial musician.
Kelly's hit song Asine was blasting from the car speakers when they drove off on Thursday night from Bhaka's Malvern home at midnight on the fateful day. The pair sat at the back while Kelly's sister, Zandi, sat in front with Bhaka's driver. The incident come shortly after a cosy picture of Kelly and Bhaka in matching outfits was posted on social media.
Kelly's other ex-lover, musician Molemo "Jub Jub" Maarohanye, languished in jail and was sentenced to 25 years in prison.
He is the father of Kelly Khumalo's firstborn child, Christian, and his life, just like other Kelly's former boyfriends, turned into a mess when he decided to fall in love with the Asinne hitmaker.
Another Kelly Khumalo's ex-boyfriend, businessman and music promoter Prosper Mkwaiwa, died in February 2015. Prosper was on his way to seek medical treatment after complaining of having a fever when he passed away. Prosper Mkwaiwa, who was originally from Zimbabwe, was first introduced to the masses when he married actress Tina Jaxa in 2000 in an extravagant wedding. The couple soon became tabloid fodder with their many fights and their habit of airing their dirty laundry in public.
They went their separate ways after siring two children. Mkwaiwa then "poached" singer Kelly "The Virgin" Khumalo from her management and became her new manager, a business partner in ProKelly Entertainment and later fiancé. That relationship also bit the dust in a public and messy way.
There are also reports that Prosper life started courting mysterious misfortunes after he allegedly broke Kelly Khumalo's virginity in 2007. Back then, Prosper, who was meant to get married to Kelly, told the media that he had had sex with Kelly.
"Yes, we have done it," said a bold and proud Prosper, but he would not be drawn into the details of when or where, though reports say Prosper broke Kelly's virginity in 2007.
In 2009, Kelly claimed that she miscarried her first child with a convicted singer, Jub Jub, due to the stress she suffered because of his cheating ways, before controversial music promoter Prosper Mkwaiwa admitted, during an interview in 2010, that Kelly had suffered another miscarriage when she lost Prosper's baby.
Prosper however, died over in February 2015 and has become the second ex-boyfriend for Kelly Khumalo to die. This in turn means that Kelly Khumalo was impregnated four times by three different celebrities though she only gave birth twice.
In 2018, Kelly Khumalo and Chad da Don first sparked dating rumours in October when they were pictured looking cosy on the set of the music video for Kelly's new song, Dance Comigo. They continue to drop hints on social media… they both shared a picture on Instagram a few days ago showing them locked in a passionate embrace.
After weeks of swirling speculation surrounding their relationship, Kelly and Chad decided that it was time to make their first public appearance together when they rocked the red carpet at the annual Feather Awards in Johannesburg in November 2018.
The lovebirds totally worked it for the frenzy of cameras and squashed any further speculation. Chad planted soft kisses on Kelly's face, while she giggled like a love-struck teen.
In February 2019 celebgossip.co.za reported that Kelly and her rapper lover, Chad da Don, had called it quits. The former lovebirds were engaged and set to get married. The pair started dating towards the end of last year and were so in love that they even got matching tattoos with each other's initials on their ring fingers. It's alleged that Kelly's decision to answer her ancestral calling got in the way of their relationship.
However, Chad's mom and other loved ones managed to mend the fallen relationship, and within a couple of weeks or months, Kelly and Chad had resumed dating.
During their happier times, the stars made some hasty decisions. Both ditched their management teams. The Jehova singer dropped long-term manager, Linda Mooketsi, while Chad ditched his publicist and handed things over to his mom. The couple would often perform together at Kelly's gigs.
After almost 6 months, the couple then broke up for good and Chad da Don quickly moved on from Kelly Khumalo and replaced her with model Carlla Poggenpoel.
We saw her wearing a wedding ring; we saw him proposing on Top Billing, we saw her call him her "husband", we saw him hint that they should make a little "KK" — these two were so in love that we were ready to plan the wedding for them. And then in August the mood changed as when they started dropping hints that things weren't okay.
The duo had an on-and-off relationship which kept people wondering if it was real or just for publicity.
Everyone who dates Kelly Khumalo dies – Ex-boyfriend Jub Jub exposes her dark side (VIDEO)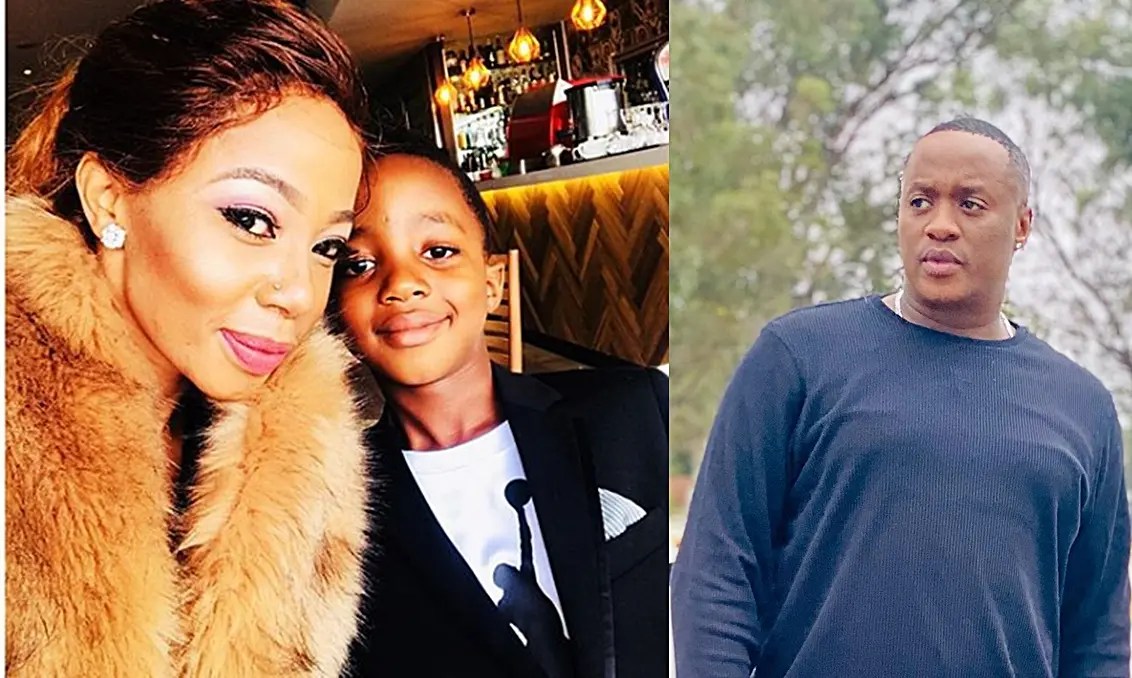 Undoubtedly, the MacG podcast has fast become one of the most followed podcasts in Mzansi and the world. We can all agree his podcast sensation have unravelled the untold stories of the most famous celebs. His latest episodes have hogged the headlines for the wrong reasons in the wake of his newfound fame.
Natasha Thahane interview produced rehearsed answers that reminded Mzansi of the Kelly Khumalo vibes during her session. In the mix of things, Kelly Khumalo has seen herself trending for the wrong reason after his estranged ex Jub Jub spilt the tea about her darkest secret that has seen several lives being lost. MacG released a teaser of his podcast with the controversial TV personality Jub Jub and Mzansi can't wait for 1 December. During the session, Jub Jub revealed that:
"All of us who have dated Kelly Khumalo is dying, you see,… so everybody knows that Kelly Khumalo uses muti".
We have managed to connect the dots and take a dive into Kelly Khumalo's love life in the mix of things. Here is a list of several celebrities who dated Kelly Khumalo and died. Some have been having misfortunes that have seen them struggling to make ends meet despite being once-famous before dating Khumalo. Could Jub Jub be telling the truth?
Jub Jub revealed Kelly Khumalo's darkest secret on MacG podcast
Senzo Meyiwa
The celebrated South African shot-stopper was shot at point-blank whilst he was in the company of the Kelly Khumalo family's house in Vosloorus.
However, it has been six years since his untimely death, and the case remains a mystery. At the time of his death, he was having an extramarital affair with Kelly Khumalo. However, in the mix of things, Mzansi is still more than convinced that Khumalo was involved in Meyiwa's death.
Molemo Katleho Maarohanye 'Jub Jub'
Molemo Maarohanye is a celebrated South African TV personality known for his most followed reality shoe, Uyajola 9/9, aired on Moja Love Channel. However, he also happens to be a rapper. However, he made headlines when he dated Kelly Khumalo. The two later divorced but do have a son together named Christian Khumalo.
In the mix of things, Jub Jub was once put behind bars for murder. In his sentence, Jub Jub was also alleged for attempted murder cases. However, he was lucky enough as he was released just after serving four years of his initial sentence after being granted parole. In 2020 he had a fallout with Kelly Khumalo, who revealed that he would never allow Jub Jub to hang out with his son. The bubby musician also revealed that Jub Jub used to abuse her physically.
Prosper Makwaiwa
Prosper Makwaiwa was a celebrated business mogul who made all headlines when he dated Kelly Khumalo in the early 200s. Rumour has it that he was the first official boyfriend Kelly had. In the mix of things, he died in 20 after being in a coma for a while. His health deteriorated after he was involved in a tragic accident that saw him escaping death by a whisker.